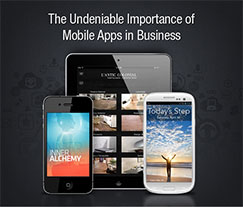 Mobile devices today are undeniably important in the daily lives of millions of people around the world. In fact, mobile devices now change the way businesses work. There are plenty of businesses out there that is now catering to mobile devices. The fact that the percentage of web traffic form mobile devices now accounts to roughly 25% of all the internet traffic makes mobile devices an important factor to any businesses out there.
The mobile app market has reached close to $30 billion in revenue from a study made by ABI research. Despite the great number, the app market is still young and as such, has plenty of untapped resources. This also means that there is room for errors, improvements and opportunities which is limited in other markets.
However, before a business decides to venture into mobile applications, there are a few questions that need to be answered.
Does the business need the app in the first place?
This is the most important question that needs to be answered before a business can decide whether it is in need of a mobile application or not to fit the business. For a retail business, having an application does have its advantages. This is considering that people can take a look at the catalog online or simply make their purchases via their mobile devices as well.
However, not every business needs their own mobile application. For example, if the company deals in consultancy, then the app that they require will most probably involve collaboration tools instead of something that they would want to let the public get access to it. As such, a business needs to weigh in the importance of having an application first, before they can proceed with getting one for their employees or customers.
What does the business need it for?
If the business has decided to create a mobile application, then it would then need to figure out the purpose of the application. This is where mobile strategy comes in to place. To create a good application, a mobile strategy is important so that the business can identify the purpose of the application, whether to choose between a mobile website or a mobile application, ways of monetizing the mobile version of the business and many more. One of the things that need to be considered is whether to create a mobile application or mobile website app. This is because each of this are tailored for different kind of audiences. For example, a mobile website will allow just about anyone to browse the mobile version of the website. This makes it suitable for any types of businesses. Mobile applications on the other hand, cater to a business that offers goods and services in mind. This makes it more suitable for retail businesses.
Besides that, if the application will be one of the core functions of the business, than chances are that the business will need to find a way to monetize the application. The most common an unobtrusive way of doing so is by offering a free version of your application. However, add in some cool features that make the application even better as a premium to those that are willing to upgrade to a higher version. Besides doing so, the business can even go for advertising but those kind of monetizing methods do not work as good considering that these ads are more of a nuisance instead. In addition to that, consider popular feature such as location-based services to make the application even more interesting.
Which platform to go with?
The bad part about making a mobile application is that the market is heavily fragmented. You have iOS that is powering the iPhone, iPad and the iPod Touch. Besides that, there is also Android that is powering hundreds of different devices with different screen resolutions and components. Other platforms that are less famous include the BlackBerry, Windows Phone 8, Bada and many more. From this perspective, it can be very troublesome to create a mobile application that caters on individual applications. Instead of doing so, businesses often choose any of these three paths: iOS, Android or a Universal Mobile App Platform such as EZ App Designer.
The good thing about a universal mobile app platform is that it supports just about any of the latest mobile platforms out there with over 10,000 devices. The fact that it is also a cross-platform alternative also means that the business need to focus only on one universal application and then use some of the features and services that can deliver different versions meant for different platforms instead. If the business wishes to get as many users as possible, consider this approach.
Either way, the business should first check the target audience as well as the platform that these audiences use. That should be the best approach. However, to do so means that the business will have to fork in some money for surveys or case studies and this will add to the financial load of having a mobile application.
Where to get it built from?
This is certainly an interesting question that some businesses fail to get it right the first time. Instead of relying on the IT department of the business, do consider outsourcing the application to a prominent or established application developer instead. This is because through a good developer, the business can be sure that the application will be made correctly and with minimal glitches. In addition to that, an established developer will most probably code in a more secure manner as compared with an inexperienced developer.
After that, discuss as much as possible and be sure to list out all of the core features that the business needs in the application. Bear in mind that core functions are features that are necessary for the app to work. Once that is done, then the business can consider adding additional features. However, do not put as many features as possible in the first version. Having a few features that are left out is good so that it can be put in the next major version of the application.
Do not skimp on choosing the platform. Maximize the budget for this aspect of the mobile application process because this is actually the most important factor for a business to have a successful mobile app. Besides that, have more than a text based conversation such as Skype. If possible, meet the developers themselves.
Importance of testing
Once the first draft of the application is finished, then the business should test all of the features present in the application. Consider hiring some beta testers so that they can identify the mistakes, flaws or bugs that are present in the application. This is because the last thing that anyone needs is an application that does not feel as polished.
Some of the testing that the business might want to consider include functional testing, performance testing, usability testing, installation testing and interrupt testing. Functional testing for example, check whether the necessary features are available or not and whether the application is practical or whether it can be simplified further.
Performance testing on the other hand refers to the speed of the application and whether there are any interruptions while using the application. Other types of tests are self-explanatory but the point is that testing is another important aspect of creating a mobile application. In addition to that, should the business choose to use a universal platform, then compatibility testing is also important so that the application can work and displayed correctly on each of the platform that has been targeted.
There is no doubt that today almost every business needs a mobile app. What is more important is that you know how to leverage your app for businesses e.g. will your app be an extension of your website or standalone app. Is the purpose of app to only promote business or to also do monetary transactions?
As long as clear on why you need an app and how that helps you earning more revenue or building a brand, you are heading in the right direction.