September 25, 2012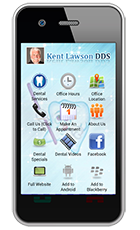 At EZ App Designer we are excited to announce the launch of the Kent Lawson DDS new EZ App Designer-Powered mobile website app!
The primary focus is Patient interaction and the ability to Request An Appointment including access to the specific dental services provided by Kent Lawson's dental office. Dr. Kent Lawson's new mobile website app makes it easy for current and new patients to see the types of procedures available for dental care including helpful videos about the practice and the dental technology used in the office. The ease of the mobile website app to allow new Patients and Current Patients to Schedule An Appointment directly from the mobile website app with the touch of a button is a very important benefit to the patients as well as the office personnel.
As a result, Kent Lawson DDS' dental practice has increased new patient appointment setting from the visibility and traffic from mobile search engines and people trying to find a dentist directly from their mobile device.
Take a look at the New Mobile App directly from your mobile device at m.kentlawsondds.com